Sandtique Rare Prints
Brion de la Tour Map - "CARTE DU CERCLE D'AUTRICHE" - AUSTRIA - 1785
---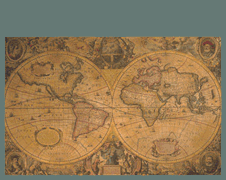 BRION DE LA TOUR'S Map - 1785 - AUSTRIA

 COPPER ENGRAVED MAP  
This 231 year old copper engraved map was rescued from  "ATLAS GENERAL" by Brion de la Tour.  It was published Paris in 1785.
This map print is in very good condition. The size of the image is about 10 1/2" x 8" on a page that is 12" x 10", blank on the back, with folds.  It is suitable for framing and would be an excellent gift.
The map that is being offered is entitled:
  "CARTE DU CERCLE D'AUTRICHE"
___________________________________________________________________

IMPORTANT INFORMATION
    SHIPPING 
SANDTIQUE charges a Flat Fee for Domestic & International shipping.
In the U.S. your Fixed Rate cost is $3.00. Each additional print ships free. If you buy five (5) or more prints, at the same time,shipping isfree.
For all other countries, your Fixed Rate cost is $6.00. Each additional print ships free. If you buy five (5) or more prints, shipping is free.
CONSIDER GOING BACK & BUYING MORE PRINTS.
PAYMENT
SANDTIQUE'S preferred payment method is PayPal.
TERMS OF PAYMENT
SANDTIQUE guarantees that the prints and books sold are from the year stated. If the print is not as stated and you want to return it, you have 7 days to do so. You will be reembured with your choice of replacement prints or cash through Paypal.
LOWEST PRICE GUARANTEE
SANDTIQUE mission is to offer its prints at the "Best Value" on the Internet. If you find an exact print at a lower price please send us the link and we will match the price. This is for fixed price, identical, single prints from the same publication & year and in equal condition. Variable price auciton items are not included.

| | |
| --- | --- |
| | |


---
Share this Product
---
More from this collection