Sandtique Rare Prints
Bonne - Raynal, H-Colored Atlas de Toutes -1780 - "L'EUROPE" (EUROPE)
---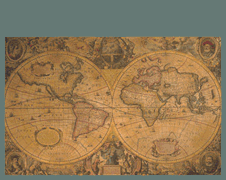 Bonne - Raynal's Hand-Colored Atlas de Toutes -1780

RARE HAND-COLORED
COPPER ENGRAVED MAP  
This 232 year old hand-colored, copper engraved map is from "ATLAS de TOUTES LES PARTIES CONNUES du GLOBE TERRESTRE DRESSE" by Rigobert Bonne & Guillaume Raynal.  It was published in Geneva by J.L. Pellet in 1780.
---
Rigobert Bonne (1727–1795) was one of the most important cartographers of the late 18th century.
In 1773 Bonne succeeded Jacques Nicolas Bellin as Royal Cartographer to France in the office of the Hydrographer at the Depôt de la Marine. Working in his official capacity, Bonne compiled some of the most detailed and accurate maps of the period. Bonne's work represents an important step in the evolution of the cartographic ideology away from the decorative work of the 17th and early 18th century towards a more detail oriented and practical aesthetic. With regard to the rendering of terrain Bonne maps bear many stylistic similarities to those of his predecessor, Bellin. However, Bonne maps generally abandon such common 18th century decorative features such as  elaborate decorative cartouches and  compas roses.
Guillaume Thomas Raynal (1713 – 1796) was a French writer and man of letters during the Age of Enlightenment.
He was born a Lapanouse in Rouerque. He was educated at the Jesuet schoo, and received priest's orders, but he was dismissed for unexplained reasons from the parish of St - Sulpice, Paris, to which he was attached, and thenceforward he devoted himself to society and literature. In 1754 he was elected a Fellow of the Royal Society.
---
This hand-coloured map is in very good condition with minor age toning. The size of the map is about 8 " x 12 1/2"  on a page that is about 9 1/2" x 14 1/2" (blank on back with usual center-fold).  It is on fine thick hand-made chain -linked paper.
This map is from an important atlas in the history of map-making. Paris was the center of much of the significant map-making of the 18th century. Bonne was one of Europe's most important map makers of that period. He was also Royal Cartographer to France succeding the famous Jacques Belin.
This map is rare. The total atlas that held this map sells for up to $6,000 on the Internet. Maps from this atlas are presented in many of the most important museums of the world.
---
PROVIDENCE
The atlas had a book plate from the Yale University Library dated 1896. It also had a book plate from William Lyon of New Haven and was signed by Joel Atwater in 1801.
---
This fine map is suitable for framing and would be an excellent cherished gift.
The map that is being offered is entitled:
"L'EUROPE" (EUROPE) 
---
IMPORTANT INFORMATION
    SHIPPING 
SANTIQUE charges a Flat Fee for Domestic & International shipping.
In the U.S.,  your Fixed Rate cost is $3.00. Each additional print ships free. If you buy five (5) or more prints at the same time, shipping isfree.
For all other countries, your Fixed Rate cost is $6.00. Each additional print ships free. If you buy five (5) or more prints, shipping is free.
CONSIDER GOING BACK & BUYING MORE PRINTS.
PAYMENT
SANDTIQUE'S preferred payment method is PayPal.
TERMS OF PAYMENT
SANDTIQUE guarantees that the prints and books sold are from the year stated. If the print is not as stated and you want to return it, you have 7 days to do so. You will be reimbursed with your choice of replacement prints or cash through Paypal.
LOWEST PRICE GUARANTEE
SANDTIQUE'S mission is to offer its prints at the "Best Value" on the Internet. If you find an exact print at a lower price, please send us the link and we will match the price. This is for fixed price, identical, single prints from the same publication & year and in equal condition. Variable price auction items are not included.

| | |
| --- | --- |
| | |


---
Share this Product
---
More from this collection